We're excited to announce that we have now integrated Todoist with Slack—one of our most requested integrations of all time. Starting today, you can add tasks to Todoist from any Slack channel or direct message, so you can work without breaking your flow.   
Let's say you want to add a task to meet Simon tomorrow at 9am: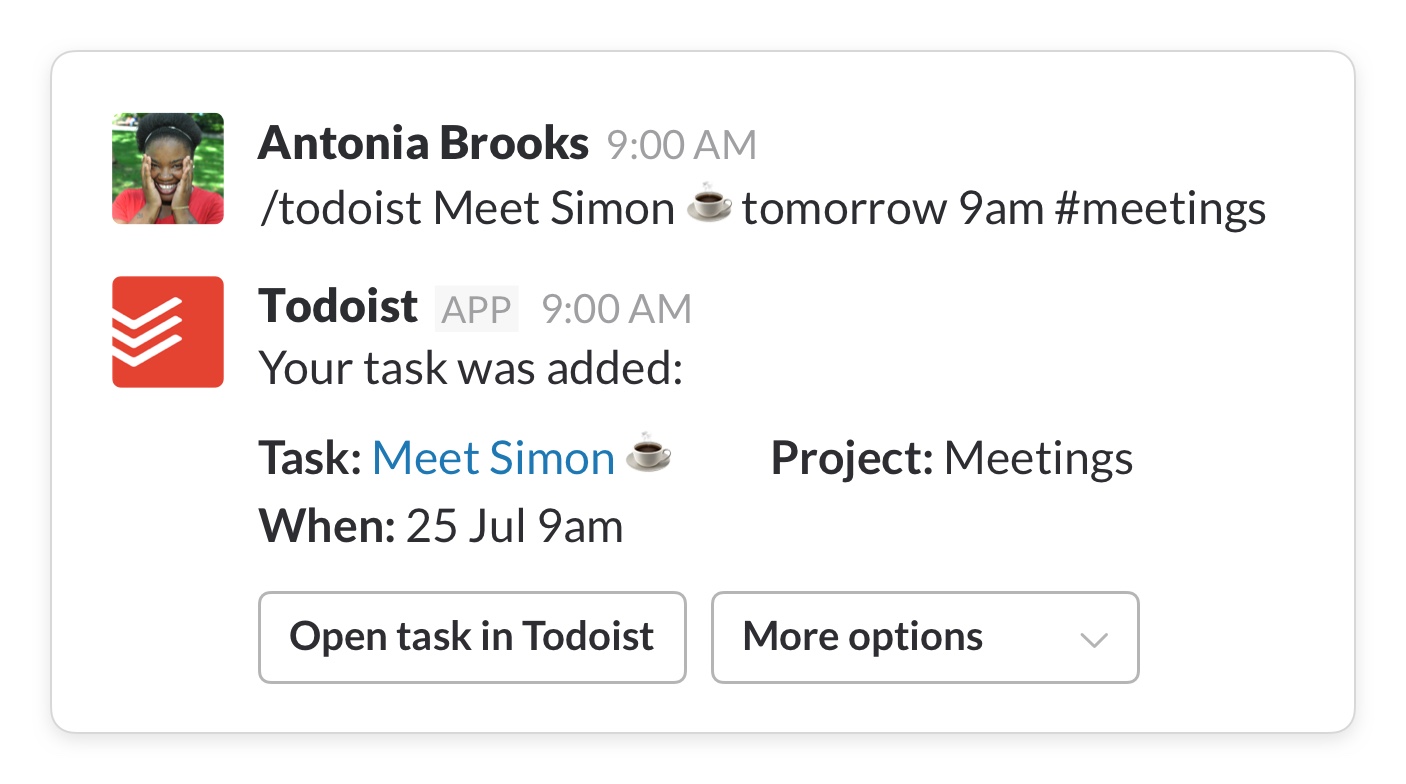 When you type "/todoist Meet Simon tomorrow 9am #meetings" into a direct message or channel, a task to "Meet Simon" is automatically added to your #Meetings project due at 9 a.m. tomorrow morning. And you can enjoy the peace-of-mind that comes with knowing you won't commit the cardinal sin of leaving your friend hanging. 
You can also add a message as a task from the three dots icon to the top right of any message: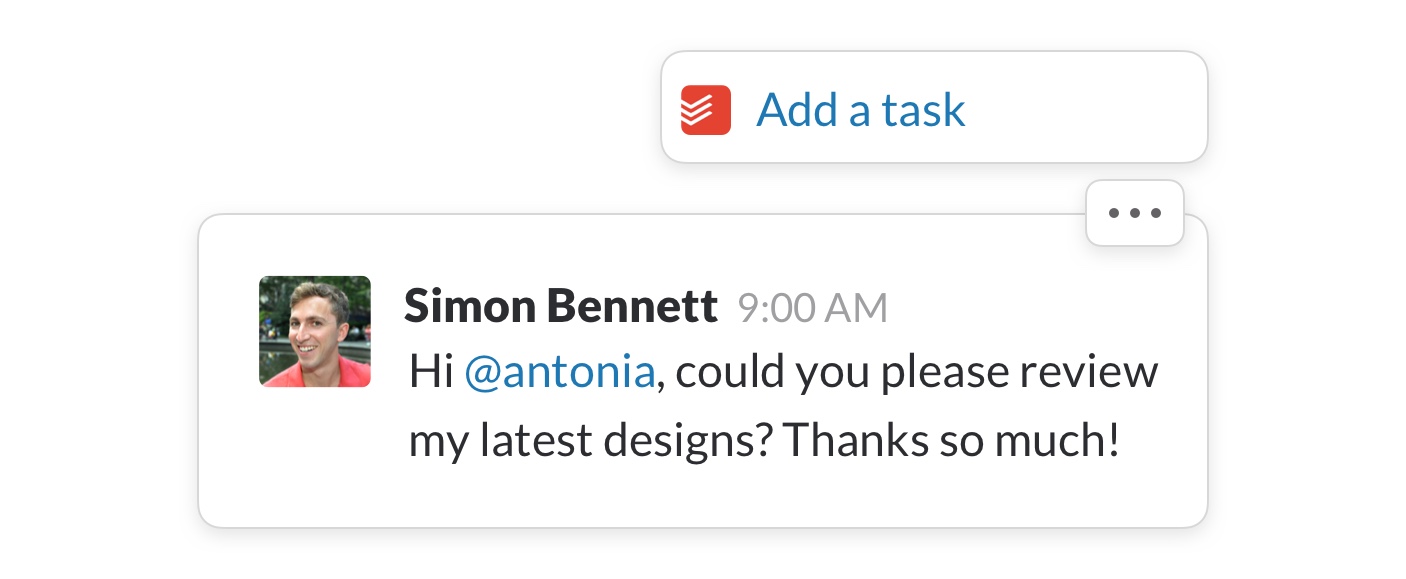 Once you've added the task, you can also complete it or assign it to someone, right from within Slack. Simply click More options under the task, and choose Complete task or Change assignee respectively..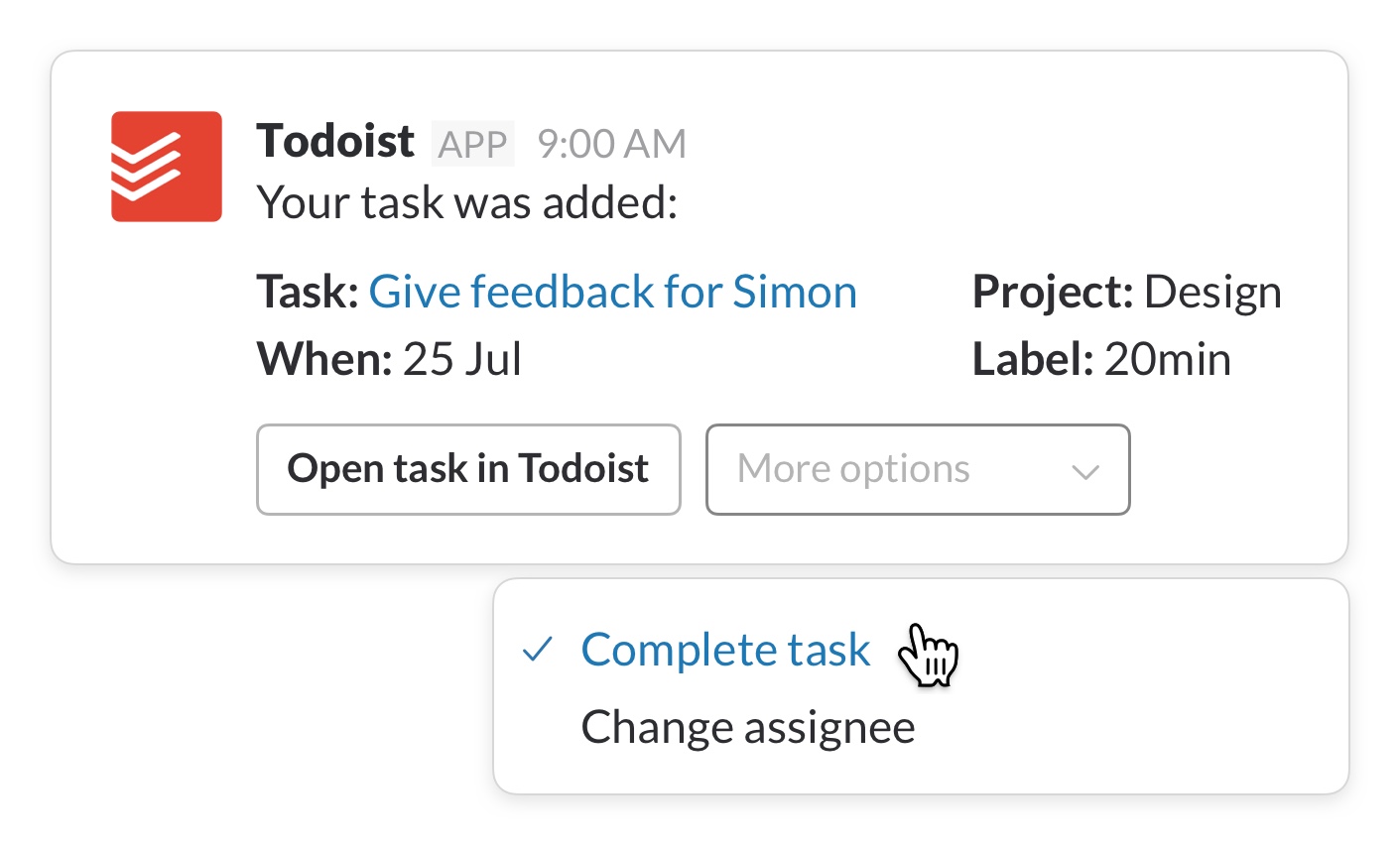 How the Todoist and Slack integration works
To start using the Todoist and Slack integration, follow these steps:
Click the Slack button below (or v

isit

https://todoist.com/slack/begin

)

: 

Select the Slack team you want to integrate with.

Click the

Authorize

button and sign into your Todoist account (if you aren't already signed in).
Once you've authorized the integration, you're all set. Simply type "/todoist" anywhere in your Slack channels or direct messages, followed by the task name, due date, labels (@), and project (#), and press enter. You have just saved your task to Todoist in the respective project, with all of the relevant information.
Try out our Slack integration today and let us know what you think in the comments below!
If real-time chat is making your team less productive, it might be time for a change. Protect your team's time and attention with a more mindful way to communicate. Learn about Twist, a team communication app that we designed for calmer, more organized communication.